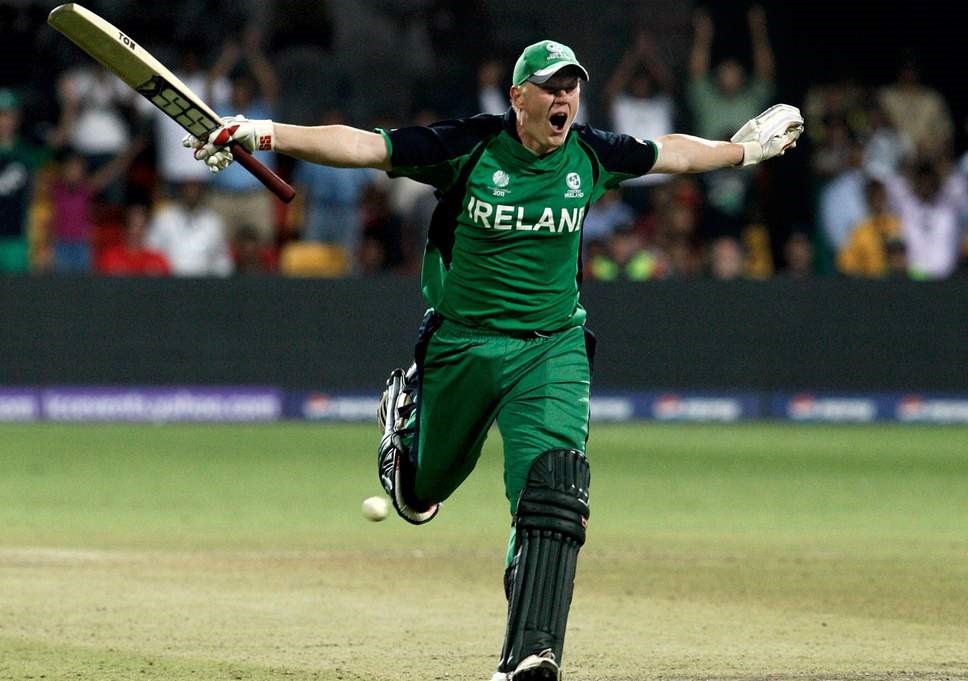 Batting on the Shoulder of Giants
---
How fitting that I'd be meeting Warren Deutrom, CEO of Cricket Ireland, in Village Square, Sandymount in Dublin, reminiscent of a scene played out in traditional village greens across the cricket playing heartland in England.
I got in touch with Warren when I heard him interviewed on the radio following Ireland's elevation to Test playing status in World Cricket. He said something on the call that really struck a chord with me and so I dropped him a note to meet for a coffee, and so here I was.
As I always do as its part of what we obsess about at Opto, I asked him about the purpose of Cricket Ireland. To be honest, I wasn't expecting as strategic and refined an answer as I got. In our experience, when asked about what an organisation's purpose is, the answer often relates to what the company does, not why it does it. Warren's answer "To make cricket mainstream in Ireland." Six runs.
Warren then went on to eloquently explain how the strategy has developed over time and how this purpose has driven almost every aspect of the transformation of cricket in Ireland.
We then touched on another favourite topic of Opto – values. Another big tick here.
When Test playing status was achieved, it was understood that it was not the current team that had achieved this goal, but the 600 or so players in the history of Cricket in Ireland that had made test status possible or, as it was put over coffee, 'batting on the shoulders of giants'. Cricket Ireland wanted to recognise this and do something to embody the values of the organisation and the sport. So, on the 3rd day of the first test match, there was no corporate hospitality. Instead the ex-players would take centre stage. They were invited to come along, given the red carpet treatment and paraded round the ground during the tea interval to receive the accolades of the crowd. Cricket Ireland also had pin badges made for each of them with their individual playing numbers. A great way to recognise the importance of loyalty and respect to the organisation. Another six runs.
Cricket Ireland also set themselves some audacious goals – such as having 10,000 people attend a cricket match. When you consider that followers and players of the national pastime of Gaelic Games were banned if caught playing foreign sports like cricket until the 1970s, and only played as a guilty secret for many years after that, it is pretty spectacular that they crammed over 10,000 spectators into a stadium in Malahide to watch Ireland play England in 2013.
So what was it that caught my attention when listening to the radio interview?
When asked about how they managed to take Ireland from the cricketing wilderness to being a test nation, he attributed part of this to a simple choice that was made in the lead-up to Ireland's first-ever World Cup in the Caribbean in 2007. The Head Coach Adi Birrell decided that, as it was almost impossible for Ireland to become the best batting or bowling side in the world, it simply wasn't in their heritage or DNA, they had to find an alternative solution: focus on being the best fielding nation in the world.
Warren explained that this was taken to extreme lengths as they prepared for matches. Where there was likely to be dew on the pitch in a match, the teams practiced with balls soaked in water to get used to the slipperiness, the slight difference in weight and how the balls moved in the air. They would also practice 'throw downs' from various distances for hours. The logic being, if you are known as being ferocious fielders that will chase everything down, you might just create a moment of hesitation in a batsmen's mind and create an opportunity. At Opto, we love organisations that make great choices, informed by a clear purpose and values. That's why it's our name Opto – I chose. That's why I called Warren.
There were a myriad of fabulous insights and examples from Warren that helped me see that the reason that they were batting on the shoulders of giants was nothing to do with chances and everything to do with choices.
We love to help businesses be clear on their purpose, vision, values and goals as the bedrock for any strategic plan. These will help you make great choices to succeed. Get in touch and we'll help you 'knock it out the park'.